Day 01 Delhi - Samode
After an early breakfast drive from Delhi to Samode, to stay at its palace or garden retreat. The village settlement is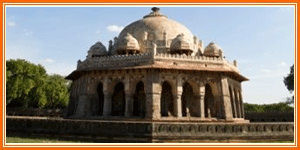 picturesque.


Day 02 Samode - Nawalgarh
After an early breakfast drive to Nawalgarh in the heart of the Shekhawati region. Arrival in Nawalgarh & Transfer to your pre booked hotel. Afternoon, explore surrounding towns and villages with their painted havelis and temples. Overnight stay at Hotel.


Day 03 Nawalgarh - Khimsar
After an early breakfast drive to Khimsar, Arrival in Khimsar & transfer to your pre booked hotel. Afternoon Visit the village around it is settled at the base of sand dunes where there are blackbuck visible on short jeep safaris. Overnight stay at Hotel.


Day 04 Khimsar - Jaisalmer
Drive to Jaisalmer, the charming fortified settlement in the heart of the desert. Overnight at Hotel.


Day 05 Jaisalmer - Pokhran
Explore Jaisalmer on foot. Cut off from civilisation for centuries, this is one of the last known citadels where the 21st century has made few intrusions, and a wide variety of crafts are still practiced. Afternoon, drive to Pokaran to stay at its fort. Pottery, and decorations for camels are made here. Overnight at Hotel.


Day 06 Pokhran - Jodhpur
Drive to Jodhpur, Full day sightseeing of Jodhpur visiting, Mehrangarh Fort 125 meters above plains, founded by Maharaja Rao Jodha in 1459 AD, Jaswant Thada, Clock Tower, local busy markets. Overnight stay at Hotel.


Day 07 Jodhpur - Mandore - Rohet
Visit Mandore, and then continue to Rohet with charming fort where you will stay. In afternoon, a jeep safari to the surrounding Rabari and Bishnoi villages. Overnight stay at Hotel.


Day 08 Rohet - Daspan
Drive to Daspan village where the fertile fields grow bountiful crops, and the village is known for its embroidered shoes. There are also some families that make bows and arrows in the Bhil style. Overnight stay at Hotel.


Day 09 Daspan
Continue into farming country, to Siyana. Visit the stable of Marwari horses. Overnight at Farm House.


Day 10 Daspan - Sirohi
Across the flat, irrigated lands of Sirohi, drive to Leopard's Lair at Bera. There is a large settlement of Rabaris in the vicinity. These migrants move around, but this permanent settlement has well-kept, clean homes.


Day 11 Sirohi - Ranakpur
Drive to Ranakpur with its 16th century temples. Stay at Maharani Bagh in the midst of an orchard, and with Geraisa dancers performing in the evening . Overnight stay at Hotel.


Day 12 Ranakpur - Devigarh
Drive to Devigarh to stay at the Mahal / Palace. Spend evening at the lakeside farmhouse of a local chieftain. Overnight at Hotel.


Day 13 Devigarh - Udaipur
Drive to Udaipur, stay at a choice of deluxe palace hotels. Take full day sightseeing tour of Udaipur covering City Palace and Saheliyon ki Bari, Lake Palace and other places. Evening free to explore the interesting labyrinths around Jagdish temple on your own. Overnight at Hotel.


Day 14 Udaipur - Dungarpur
Drive to Dungarpur with its Bhil / Tribe villages all around. Overnight at Hotel.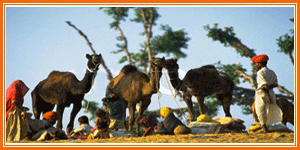 Day 15 Dungarpur - Chittaurgarh Fort - Bijapur
Drive via Chittaurgarh Fort to Bijaipur, the base for the Mina tribes. The village is located beside a lake. Overnight at Hotel.


Day 16 Bijapur - Kota
Drive to Kota, stay at Umed Bhawan, Brijraj Bhawan or Sukhdam Niwas. Local sightseeing. Overnight at Hotel.


Day 17 Kota - Bundi
Drive to Bundi for sightseeing of fort, and Raniji ki Baori stepwell. Continue to Rajmahal, a 300-year-old palace with the village named after it. The palace overlooks the river below. Overnight at Hotel.


Day 18 Bundi - Pachewar
Drive to Pachewar vilage and its restored fort or Garh. Flourishing agricultural practices, toy makers and a blue pottery kiln. Overnight at Hotel.


Day 19 Pachewar - Jaipur
Drive to Jaipur, and sightseeing there. Overnight at Hotel.


Day 20 Jaipur - Bhandarej
Drive to Bhandarej . The village has a lovely setting beside a lake, and Meena settelments around it. Overnight at Hotel.


Day 21 Bhandrej - Karauli
Drive ro Karauli, known for its pink stone quarries, and and Kaila Devi temple. Overnight accommodation at Hotel.


Day 22 Karauli - Bharatpur
Drive to Bharatpur bird sanctuary. Visit bird sanctuary, and visit the old fort with its incredibly invincible mud bastions. Overnight at Hotel.


Day 23 Delhi - Onward Destinations
Depart from Agra or Delhi. Upon arrival to Delhi your guide will take you on a combined tour of Old & New Delhi. The older part of the Capital takes you to the Red Fort with its Pearl Mosque and exquisite audience halls, Jama Masjid Mosque with its marble domes and slender minarets; Raj Ghat (where Mahatma Gandhi was cremated); the Ashoka Pillar. Enjoy lunch at the local restaurant. Than the modern area takes you on a drive along Rajpath, New Delhi's broadest avenue, and see the House of Parliament, the Diplomatic Enclave and the President's House the royal residence of the former viceroys and now of the President of India. Also visit the India Gate and drive through Connaught Place, the Qutub Minar built in the 12th century. In the evening transfer to international airport to proceed to your onward Journey as per your programme.