A joint venture of Rajasthan Tourism Development Corporation and Indian Railways. Palace on Wheels, India's first luxury tourist train, started rolling from the year 1982 to explore famous tourist destninations in rajasthan like Maharaj.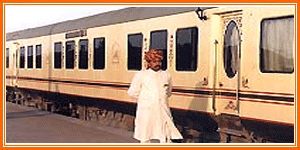 Day 1 Wednesday - Delhi
Reporting Time: 16.00 hrs. Departure 18.30 hrs.
The journey of a lifetime begins at the Delhi Cantonment station where the guests are accorded a warm, traditional welcome before the Palace On Wheels pulls out into the night & for a weeklong luxury cruise through fascinating Rajasthan.


Day 2 Thursday - Jaipur
Arrival: 02.00 hrs. Departure 19.30 hrs.
Wake up to the blushing pink city of Jaipur, early next morning, where a royal welcome awaits you, with caparisoned elephants, music and garlands. Lunch at Rambagh Palace. Guests are then taken on a tour of the city on luxury buses. Discover Hawa Mahal, Nahargarh Fort, Amber Fort and silent sentinels of a glorious era.
Shop for Jaipur's famous jewellery, handicrafts, carpets, blue pottery and textiles. After lunch at a heritage hotel in Jaipur, you are off to the City Palace, home of the erstwhile royal family. Right across the road from the City Palace is the Jantar Mantar, the largest observatory built by Sawai Jai Singh II. After a royal experience in Jaipur guests are back to Palace on Wheels around 6.30 p.m. Dinner onboard.


Day 3 Friday - Jaisalmer
Arrival: 08.15 hrs. Departure 23.00 hrs
The train chugs on to Jaisalmer, a desert citadel and the city of golden sands. Everywhere one can witness the expert craftsmanship of the stone carvers of Jaisalmer. With its intricately carved chattris (canopies), imposing havelis (mansions) and patwas (jewellers), Jaisalmer gleams like a diamond in the wilderness of the Thar Desert. At the sand dunes, one can witness spectacular sunsets. On a full moon night, you are sure to be mesmerized, as the breeze blows and forms, and reforms the golden sands. Towering proudly over the city is the Jaisalmer Fort, the golden yellow sandstone fort built by Rawal Jaisal in 1156. Go shopping for fine pattu shawls, mirror work and embroidered articles, wooden boxes, trinkets, silver jewellery and curios. After lunch on board, go for an exciting camel ride on the sand dunes of Sam, before sipping a refreshing cup of tea. Enjoy the dinner and the cultural programmes at a hotel in Jaisalmer. The train leaves for Jodhpur at night.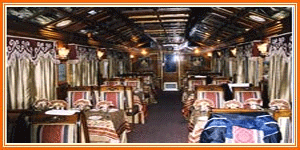 Day 4 Saturday - Jodhpur
Arrival: 07.00 hrs. Departure 15.30 hrs
Good morning Jodhpur! The second largest city of Rajasthan, Jodhpur is a city surrounded by a high stonewall with seven gates and several bastions. Founded by Rao Jodha in 1459 A.D, Jodhpur is known for its rock-solid Mehrangarh Fort. The grand palaces within - Moti Mahal, Sheesh Mahal, Phool Mahal, Sileh Khana and Daulat Khana are impressive examples of architectural excellence. Near the fort complex lies Jaswant Thada, and a group of royal cenotaphs made of white marble. Lunch at a heritage hotel in Jodhpur, return to the Palace on Wheels. While in Jodhpur shop for exquisite handcrafted articles including the famous breeches, embroidered shoes, metal curios, silverware, painting and tie and dye fabrics.


Day 5 Sunday - Sawai Madhopur
Arrival: 04.00 hrs. Departure 10.30 hrs.
You are now transported to a paradisal site - Sawai Madhopur. After breakfast an excursion is arranged to the famous Rathambore National Park. Once a royal hunting preserve, Rathambore National Park is now declared as a Project Tiger Conservation area, where safaris are organised for wildlife enthusiasts. Nearby, stands the 10th century fort of Rathambore steeped in legends.
Sawai Madhopur is known for its exclusive toys, ethnic ornaments and costumes. Upon return to the Palace on Wheels, you leave for Chittorgarh, when one gets an opportunity to watch the colourful countryside passing by in the daylight.


Day 5 Sunday - Chittorgarh
Arrival: 16.00 hrs.
After lunch on board you are in Chittorgarh. Images of love and valour, scars of battles lost and won and thrice besieged. Chittorgarh Fort is all this and more. Moving legends of honour and pride will echo in mind as you proceed to Udaipur.


Day 6 Monday - Udaipur
Arrival: 20.00 hrs. from Chittorgarh
A short drive in a luxury coach now takes you the city of lakes, Udaipur, where stands the splendid Jag Niwas (Lake Palace), in the placid waters of Lake Pichola. The locale is also celebrated as the site of the James Bond movie Octopussy. After lunch at Lake Palace Hotel, a visit to the City Palace is exhilarating. The luxury coach then takes you back to the Palace on Wheels at Chittorgarh, thus winding up a day full of delights.


Day 7 Tuesday - Bharatpur
Arrival: 06.30 hrs. Departure 11.45 hrs
Early next morning, the Palace on Wheels arrives in Bharatpur, the capital of Maharaja Suraj Mal. After breakfast pay a visit to the world famous bird sanctuary, Keoladeo Ghana National Park, the nestling place for thousands of egrets, Siberian cranes, migratory waterfowls and other species of birds.


Day 8 Tuesday - Agra
Arrival: 14.30 hrs. Departure 23.00 hrs.
Arrive at Fatehpur Sikri - the red sandstone Mughal palatial complex. After lunch proceed to the city of the Taj Mahal, Agra. Agra is known for its splendid monuments, leather goods and jewellery. Dinner onboard and a good night's sleep, as the Palace on Wheels proceeds for Delhi Cantonment station.


Day 9 Wednesday - Delhi
Arrive 0600 Hrs.
Arrive at Delhi Cantonment station. It is time to alight, and return to the present, after experiencing seven glorious days of pomp and pageantry, of a bygone era. Proceed for onward journey or to take a flight back home.