Taj Mahal Travel India
is one of India's premier destination management platform of various reputed companies in India.
Who can understand your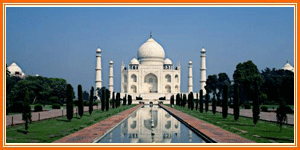 travel plan better than the team of our dedicated & competent staff headed by Chief Executive having more than a decade of relevant experience in the tour & travel industry.
While designing any of the tour programs for India we undertake utmost care to ensure that you get the best of every moment spent at every place you visit with us.
As a total Destination Management Company we are not too big where the clients cannot get personal attention nor too small where it is difficult to handle any big movement. Our dedication of enduring worldwide business relationships with the clients whose profile is as diverse as our activities. We are a mix of young and experienced enthusiastic highly qualified professionals who aim towards Trust, Reliability, Dedication and Highest Standards of Satisfactory services to our valued guests from all across the globe.
Our experience and expertise has given us confidence to cater to all your travel related requirements at any given point of time and provide you the best Possible Value for your Money.
For us personal attention to all our clients is not an exception but a rule. Our strength lies in exceptionally qualified professional team and out strong tie-ups with trusted and renowned travel partners and hotel chains not only within India but across the globe.
Thousands of our valued guests can vouch for our services at any given point of time. Its like a never ending relationship that we create with our clients who make them travel not only within India but all part of the worlds again and again.
Our wide range of services include :
- Inbound Tours
- Incentive Tours
- International & Domestic ticketing
- International & Domestic Hotel bookings
- Conferences & Sales meetings.
- Corporate & Leisure Travel
- Car Rentals
- All travel related allied services
Welcome to our World.
We believe our service begins with a simple relationship - we and our guests and not like agent and traveler or agency and client.
We welcome you to discover our world and look forward to having you our guests.