Day 01 Delhi
Fly from your country to New Delhi, you will be greeted & assisted upon arrival by "
Taj Mahal Travel India
" Representatives. Transfer to your pre booked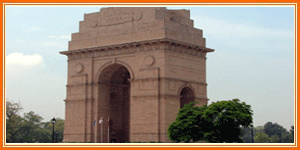 Hotel for overnight stay. Depending upon your flight timings you will have time for leisure activities and acclimatization.
Day 02 DELHI - AGRA ( CAR ) 235 Km, 05 hours
Morning after breakfast at the hotel, leave for Agra, Continue your drive to Agra, arrive and check in at Hotel. After change and wash visit one of the wonders of the world,
Taj Mahal
(
monument of love
), founded by 5th great Mughal Emperor Shahi Jahan in the memory of his beloved queen Anjuman Bano Begum ( with love emperor called her Mumtaz ). After her death in 1627 AD, in her memory emperor started to built Taj Mahal ( Taj means crown & Mahal means Palace, so it is Crown Palace ) from 1631 to 1653 AD with twenty two thousand labors working since sun rise to sun set in twenty two years. The marble was transported from Makrana in Rajasthan by the help of animals.
Return to Hotel for overnight stay.
Day 03 AGRA - DELHI ( 200 Km, 04 hours )
After breakfast check out from the Hotel and visit Agra Red Fort which was built by three emperors Akbar & Jahangir built in red sand stones and Shahi Jahan in pure white marble. While driving to Delhi visit crematory of Akbar at Sikandra which he had started building himself and after his death, it was finished by his son Jahangir. Continue your drive to Delhi arrive and check into your hotel.
Day 04 OLD & NEW DELHI TOURS
Breakfast at Hotel and then leave for full day sightseeing of Old and New Delhi visiting Jamia Masjid, enjoy rickshaw ride in narrow alleys of old Delhi through Kinari Bazaar and 400 years old Chandni Chowk, Red Fort ( Lal Qila ), Crematory of Mahatma Gandhi, Birla Temple, Parliament House, Akshardham Temple, Lotus Temple, Presidential House, India Gate, Government buildings & Qutab Minar.
Return to the Hotel for overnight stay.
Day 05 DELHI - SIRINAGAR ( FLIGHT )
You will be met on your arrival at Srinagar Airport & transferred to Hotel. Later in the day go for Shikara ride, visit floating Gardens in Dal-Lake.
Dinner and Overnight Stay in Srinagar.
Day 06 SRINAGAR - GULMARG
After breakfast at the hotel go for a full day trip to Gulmarg (the meadow of flowers) 2730mts. above sea level. The distance of 56 kms will be covered in about 2 hrs. Gulmarg has one of the best ski slopes in the world, and on of the highest golf courses in the world with 18 holes. You can also enjoy a view of Nanga Parbat if the weather permits. The view en route from Tangmarg to Gulmarg is fascinating, a short trek up to Khilanmarg, which can be covered in about 3hrs is optional.
The Gondola lift for mountain rides is also available. Lunch in hotel (can also be carried from the respective houseboat/hotel).
Return back to Srinagar hotel for dinner and overnight stay.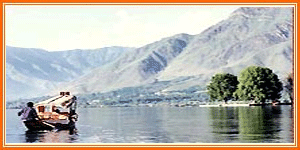 Day 07 SRINAGAR - PAHALGAM
After breakfast, at the hotel depart for Pahalgam (The valley of shepherds) by car. The total distance of about 96 kms .will be correct in about 3 hrs.
En route, visit the saffron fields of pampore, Awantipure Ruins (1100 years old temple of lord Vishnu built by the kind Awantivarman), & enjoy the beautiful country side. Drive through the pine forest.
Arrive at Pahalgam and enjoy your packed lunch of the banks of lidder stream. Later, walk along pony trails with a magnificent view of the mountains.
Drive back to Srinagar for overnight stay.
D
ay 08 SRINAGAR
After breakfast in the morning go for a full day sightseeing tour of Srinagar visit the most beautiful gardens of the world the Mughal gardens, Nishat bagh built by Asaf Khan , the brother-in-law of emperor Jahangir in 1633 A.D & Shalimar Bagh built by Jahangir for his wife empress Noor Jahan & Cheshme Shahi ( The Royal spring ), built by emperor Shahi Jahan in 1632A.D because of its sweet ness of the water. All the gardens are suited on the banks of Dal Lake with the Zabrawan hill in the back ground. En route the gardens visit a carpet weaving factory. Lunch is at the houseboat / hotel. Rest of the day is free for leisure activities.
Dinner and overnight stay is in deluxe houseboat / hotel.
Day 09 SRINAGAR - SONAMARG
After breakfast at the hotel go for full day excursion to Sonmarg by car. The distance of about 87kms, will be covered in about 3 hrs time. Sonmarg lies in Sindh valley strewn with flowers & surrounded by mountains, Sonmarg is also the base for some interesting treks to high altitude Himalayan lakes.
Drive back from Sonmarg & transfer to deluxe houseboat / hotel for dinner & overnight stay.
Day 10 SRINAGAR - DELHI - FLY BACK TO YOUR COUNTRY
After breakfast at the hotel you would be transferred to the airport to take your flight back to Delhi. Reach Delhi and depending upon your flight timings transfer to the International airport to take your final flight back to your country. Fly back to your country with the everlasting memories of the magnificent glimpses of Incredible India