Mumbai - The business hub of India Mumbai a cluster of seven islands, derives its name from Mumbadevi, the patron goddess of the Koli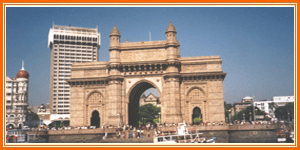 fisher folk, its oldest inhabitants. Once a Portuguese princess' dowry and later an adornment of neo-gothic British architecture, Mumbai today, is more than just a metropolis. It is infact an enigma of mud huts & sky- scrapers, age old traditions & high fashions, the industrialists' heaven & movie makers' hollywood.
A lovely natural harbour and winding creek set off the city of Mumbai from the long, narrow coast of Western India. Mumbai pulsates with activity. It is a city that is disciplined by no time frame-neither by day nor night. Mumbai is also the country's financial powerhouse, the nation's industrial heartland, and its economic nerve centre. Dazzling shopping arcades, exciting sport activity, night clubs and discotheques, theatre and music, gourmet restaurants and interesting sightseeing - Mumbai offers the visitor a heady mix of all this and more.
Formerly known as Bombay or today's Mumbai is an amalgamation of seven islands (Colaba, Mumbai, Mazagaon, Old Woman's island, Wadala, Mahim, Parel, and Matunga Sion.) The Portuguese called the islands "Bombay" meaning "Good Bay". These islands were ruled by the Hindu dynasties, the Muslims and then were presented to King Charles II in 1661 as part of the dowry when he married Princess Catherine de Braganza of Portugal. Bombay was handed over to the East India Company in 1668. It started growing as a trade center owing to shift of the shipbuilding industry from Surat. The opening of the Suez Canal after the American Civil War enabled export of cotton from Bombay. It also played an important role in the freedom struggle of India. The first Indian National Congress was hosted in Bombay in 1885. Bombay was also the capital of the Bombay Presidency that was divided into Gujarat and Maharsahtra. Since 1996, Bombay has been officially known as Mumbai, derived from the name of Goddess Mumbadevi.
Attractions in Mumbai
Gateway of India
Malabar Hill
Marine Drive
Juhu
Chowpatty
How to Reach
By Air
Mumbai is an international airport. Many international airlines operate flights to Mumbai from various parts of the world. Indian Airlines and many private airlines connect Mumbai with all major tourist centres in India.
By Rail
Mumbai is the headquarters of the Cent6ral and Western Railways. Regualr trains connect it with all major cities like Aghamedabad, Aurangabad, Bangalore, Bhopal, Calcutta, Delhi, Goa, Hyderabad, Jaipur, Madras, Nagapur and Trivandrum.
By Road
Mumbai is connected by good motorable roads with all major tourist centres